I believe you are not at this website by accident! I think you've hit that turning point in your life where you're saying to yourself…
… I'm not going to be FAT anymore!
In fact, I am going to do whatever it takes to find a real plan that I can stick to for life.
Through my research I found The Perfect Plan that will allow you to eat the foods you love…
And avoid discouraging plateaus so that you will see results FAST — each and every week!
Can you relate to any of the following statements or feelings?
Are you sick and tired of being overweight?
Do you dread going to the store/bank or other public place… afraid you'll run into someone that you haven't seen since you've gained weight?
Do you hate it that you are virtually erased from family memories because you hide whenever a camera comes out… or you're always the one behind the camera?
Have you even postponed going to the doctor because you know that you have to get on that scale just to get "your pass" to see the doctor?
And finally, are you fed up with going thru all the effort it takes to lose the weight… and promising yourself that "this time, this it!"… only to be sitting here today trying to find another weight loss solution because you let that scale creep back up again?
If you are shaking your head yes, I've got great news for you…There is Hope!
Despair, Embarrassment, and Most Importantly Your Excess Weight…
Can ALL Vanish — FOREVER!
Calorie Confusion® Works for everyone, no matter your age, even if you've hit that dreaded "over 40 birthday". I'm 43 years old… a mother of 4… with a full time job… so I know that if I've found a permanent weight loss solution that works for someone over 40… full time mom and employee…
I know that this is the once-and-for-all weight-loss solution for virtually everybody!
I wish I would have found this solution 20 years ago… I know that it is something that would have allowed me to avoid the constant weight roller coasters that I've been riding for the last 20 years!
So for all of you lucky "under 40" something women… heed my advice… save yourself years of trial and error… years of missed opportunities… and years of wreaking havoc on your body… and take control now and make your body everything you ever dreamed it could be.
And for all the "over 40'er's"… What are you waiting for?
There's finally a proven solution for you too!
I'll hold you by the hand throughout your weight loss journey and show you every step of the way exactly what you need to do each day to see amazing results just like I did.
I'll show you how to:
Regain the body you were meant to have
Regain your energy
Regain your self confidence
Regain your love for shopping for new clothes (one of my favorites)
Regain your pleasant demeanor, if you're like me, I know I'm a much more pleasant person to be around when I'm not a tired, frustrated and grouchy overweight person
Be back in those family photos
Add years to your life expectancy
Enjoy joints that don't hurt anymore… and a body that moves more freely… because the excess weight that was keeping your body hostage is gone
Get your life back!
*Results vary depending on how long and how close you follow the program.
About Pamela Miles, Creator of Calorie Confusion®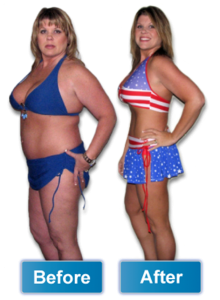 Pamela Miles, the creator of "Calorie Confusion®" was a 43 year-old mother of four, busy full-time employee, when she began her "Once-and-For-All Final Weight Loss Journey".
She never thought she would be the "fat girl". But after having kids and putting on a lot of weight with each one of them, she began the vicious cycle of yo-yo dieting.
She tried many fad diets… even lost quite a bit of weight on some of them. Ultimately though, none of them were something that she found she could stick to for life.
Inevitably, the weight would come back. Again.
Sometimes, even more than before.
Her turning point happened the day she stepped on her newly purchased Wii Fit System. She was absolutely shocked and horrified when she weighed in and saw "obese" show up on the screen!
She had almost given up on finding a real and permanent weight loss solution. But she knew there had to be some way to really beat the weight loss battle "Once and For All"!
There had to be a way "To Get Her Life Back"! She made it her mission to research and find a permanent solution that wasn't a gimmick or a fad… something that could be incorporated into virtually all real life situations. Through that research, Calorie Confusion® was born.
By using the Calorie Confusion® system — on day 127 into the plan — when she stepped onto the Wii Fit for her weigh in — she saw the word "normal" up on the screen. Even better than that, not only had her weight melted away during those 127 days… but she had substantially toned every part of her body.
Pamela knew that other women who are struggling with their weight, deserve to know this "little known weight loss secret". This compelled her to create the "Calorie Confusion® Total Weight Loss Package".